Every year it feels like Easter pops up out of nowhere…even though it seems Easter candy gets put on the shelves February 15th.  But of course, Easter decorating is often left to the last minute.  Fear not – if you are planning to host an Easter meal or festive get-together here are a few ideas that have a pretty quick turnaround time.
The internet.  How did we ever cope without it?  We no longer have to set time aside to go to a library or book store and trawl through the publications.  I checked out a few websites for some cute, impactful, and easy Easter decorating ideas.
Here are a few ideas that are attractive and budget friendly:
Paint sample Easter eggs. This is a great idea that I found on "Luci's Morcel's" website through Pinterest.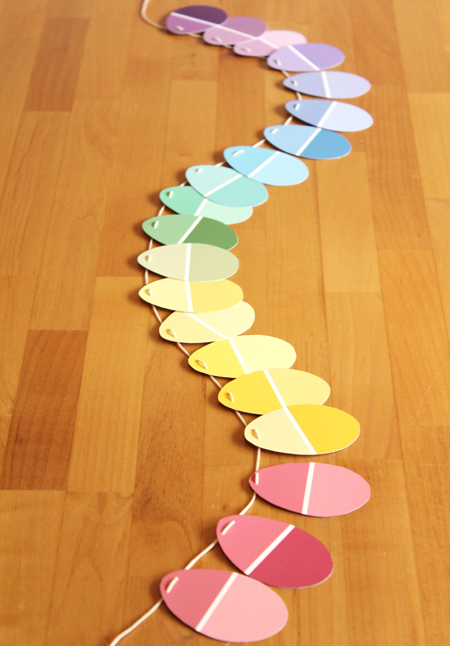 http://www.lucismorsels.com
It looks like an actual design when all you needed to do was cut them out (I'd use a template and cut a few together), punch two holes and feed the string through.  I think I'd dig around my crafty box and see if I could find a fine, pastel coloured ribbon.
2. Dress up your plants / flowers
Pick up a few pre-made decorative eggs if you don't have time to decorate them yourself and simply pop them in with your potted plants.  You could even do a little Easter egg hunt. (Adults can be kids too!)
3.  Mini Egg jars
http://www.happinessishomemade.net
Aren't these just adorable! I saw this idea on http://www.happinessishomemade.net and thought it looked great.  An emulsion or chalk based paint would probably work best for this.  Dig through your old tester pots (I NEVER throw those out) and see if you can make up pastel colours.  If not, 5 minutes in a hardware store and you could have a few tester pots ready to go.  Cut out a little template of a bunny or even just a simple egg shape, press it on and paint the rest of the jar. When you take the little template away, you will have a great little Easter design!  If you don't have any ribbon, just pick up a few paper doilies, glue to the inside of the lid and there you go!
Happy Easter all!